This GMC-DD05 double-drum tandem vibratory road roller is a kind of mechanically driven hydraulic vibrating roller which is manufactured in accordance with advanced foreign technologies and on the basis of selecting top-quality domestic critical parts and components. This vibrator road roller features strong engine power output capacity, large power output reserve capacity, wide rolling wheel, high operation efficiency, novel design, compact structure, reasonable layout and beautiful shape.
Adoption of the Changchai ZN485Q diesel engine, the hydraulic vibration, articulated and hydraulic steering device, GMC-DD05 road roller is outstanding in performance, easy to start and convenient and flexible to operate.
The front wheels of this road roller machines are hydraulic vibration while the rear wheels are mechanically driven. The rear wheels adopt the gear transmission driving mode, which is safe and reliable. The width of the front and rear rolling wheels is 1.250mm, thus guaranteeing high operation efficiency.
The main clutch is of single-plate open normally engaged type. The transmission torque is large and performance is reliable. The master clutch is operated by fuel booster mode and the footbrake is controlled by a flexible shaft, which help to operate the rollers conveniently and flexibly.
Our road compactors are extremely convenient to service and maintain.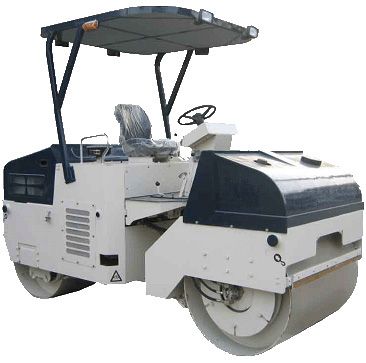 Data of GMC-DD05 Double Drum Road Roller
Weight
Operating mass 5000kg
Front wheel static linear load 220N/cm
Rear wheel static linear load 180N/cm
Drive
Theoretical Grade ability 20%
First speed/Second speed 2.3/6.3km/h
Vibration
Vibration frequency 45Hz
Vibration Drum width 1250mm
Engine
Engine model N485
Rated power 27Kw
Rated speed 2500r/min
Electrical voltage 12V
Machine dimensions
Overall dimensions (LXWXH) 3430*1480*2730mm
Sprinkler tank capacity 100L
Fuel tank capacity 70L
Overall parameters
Centrifugal force 50KN
Min steering radius 5000mm
Wheelbase 2480mm