Through decades of flour milling industry development, the production level of grain processing equipment and China's flour milling had a great improvement. We design complete sets of flour mill plant build according to the flour milling industry and diversified demand for flour quality from consumer, which can fully meet the different requirements of users.
Floor Type Flour Mill Plant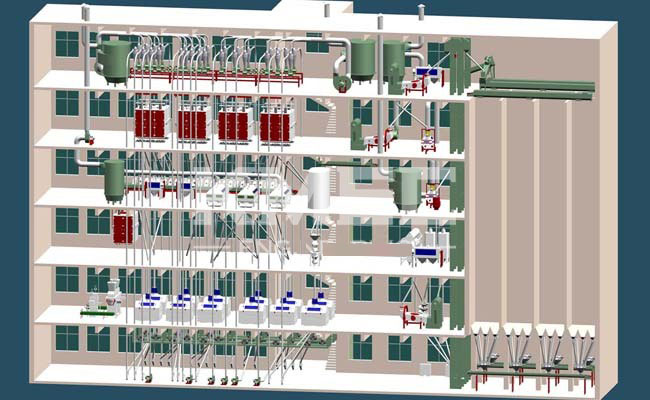 M6FZD-35/40 Style Millty Wheat Flour Mill
Advantages:


This wheat flour mill machine has features: No groundhole, lifting the wheat, receiving the bran and flour on the ground. Maintainance and operation are easy. It can process the
wheat automatically and reduce the intensity of labour.
Main Technical Data
style

output(Kg/h)
process the wheat

power
(kw)

lour quality

LXWXH(mm)

container
of 20 feet

M6FZD-35

300-400

9.7

confirm with the stipulation of GB-1355-86<Wheat flour>

750x650x750
2200x850x1500

1/6

M6FZD-40

350-450

13.2

1050x1000x900
2400x250x150

1/6
M6FTY-10 small-scale unit, low investment and high efficiency, is a small complete set of equipment which can produce continuously. It is the epitome of the big unit and the design is principle, operation is simple, repairs are easy and cover little area.

The main features are:
1/ The flour can be adjusted according to the market's requirment, F1 flour, F2 flour and standard flour can be produced.
2/ The covering area: LxWxH=6.6x3.8x3.5(m)
3/ Power consumption low the state standard, the total power is: 26.5KW.
4/ The tempering tank includes two parts, the size of each tank is: LxWxH=0.9x1.5x1.5(m)

The main equipment:
| | | | |
| --- | --- | --- | --- |
| No | Name of equipment | Specification | Number |
| 1 | flour-milling machine | M6FY-35 | two sets |
| 2 | Fan | 6-23NO-5C | one set |
| 3 | Fan | 8-18NO-4A | one set |
| 4 | reel separator | 30 style | four sets |
| 5 | stoner | QS-40 | one set |
| 6 | scourer | 6NF-90 | two sets |
| 7 | air-lock | GFY-150 | four sets |
| 8 | sliding separator | 30 style | one set |
| 9 | auger | 150x1000 | one set |
| 10 | beater | 20 | one set |