Feed Mill for Animal Turn Key Plants

Our feed pellet mill can make wood pellet and animal feed, designed for different usage, the structure is different. Granulation of materials such as various feedstuff for livestock, poultry and aquatic products, grass meal, organic fertilizer,etc
The series of feed mill for animal turn key plants draw domestic and foreign models of advantage, with high efficiency, low consumption, stable performance, etc. Our Feed Pellet Mill is currently feed industry ideal particle equipment.

Main performance characteristics of Feed Pellet Mill:
1) The use of triangular rotating belt, simple maintenance, noise.
2) Die, roller pressure to adopt special materials, with a special heat process, high-quality, long life, good effect.
3) Roll-molding granulation, the particles of high hardness, the use of a wide range of particle size adjustable, die, roller pressure to facilitate disassembly.
4)Speed-adjust feeding, adopted by this machine, can control the feeding capacity correctly to suit different materials and meet the production requirement of pellets with different diameters.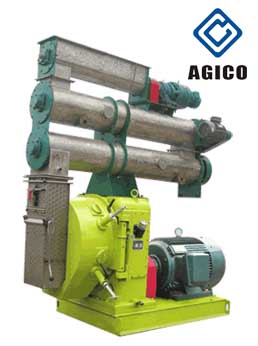 AGICO is a main manufacturer of Feed Pellet Mill in China. We offer large and small Feed Mill For Animal Turn Key Plants. High quality Feed Mill Machinery, great service.