Turn-Key Project Of Flour Mill Plant And Equipment
Through decades of flour milling industry development, the production level of grain processing equipment and China's flour milling had a great improvement. We design complete sets of flour mill plant build according to the flour milling industry and diversified demand for flour quality from consumer, which can fully meet the different requirements of users.
Floor Type Flour Mill Plant
Floor type flour mill plant usually have
four, five, six layer,
according to the specific requirements of the user's specific.
| | |
| --- | --- |
| | |
| First floor | Second floor |
| | |
| Third floor | Fourth floor |
| | |
| Fifth floor | Sixth floor |
1.Description:
The complete sets of flour grinding machines are developed based on the development of global economy. Its feature is that the scheme of the flour is long, which adopts break system, scratch system and reduction system and make the flour evenly and completely. The flour milling is high, the flour is fine, the color is good, the gluten in it is good. It can make several sorts of flour, conveys the stock with pneumatic lift in purifiers, in screen room adopts bucket elevator. The result of dry cleaning the raw wheat is good and the workshop is sanitary.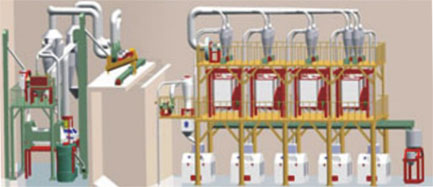 2. The Main Technical Parameters of Grinding Mill:
1. Output: 50T per day.
2. The quality of the flour: Conform the stipulation of China GB 1355-864'
3. The total power: 157.95KW
4. Power consumption per ton wheat: 60.65KW*h
5. The voltage: 380V*50HZ.
6. Weight: about 50 ton
7. Bulk: 160M3
3. The Main Equipment list
The part of cleaning

The part of Marking flour

No

The name and specification of equipment

QTY

No

The name and specification of equipment

QTY

1

PH-50 grain separator

3

1

6F-35 flour milling machine

3

2

DMW-30*60 style scourer

2

2

GFY-200 style air-lock

2

3

QSX-56 style sucking stoner

2

3

150 style auger

2

4

Magnetic separator

1

4

FSFJ2*13*83 plansifter with two nest of sieve

1

5

FZSH damper

1

5

6-30-7# style high pressure fan

1

6

4-72-11 style low pressure fan

2

6

Bagging-box

2

7

150 style auger

4

7

Pneumatic system of making flour

4

8

Four-cyclone

1

8

30 style bran sieve

1

9

Bucket elevator

4

9

TBCM-39b pulse cloth pot dust filter

4
4. The layout of the flour milling plant workshop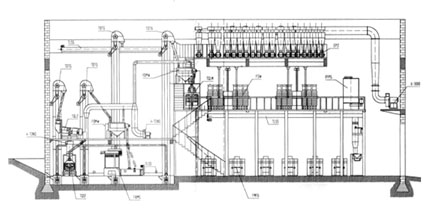 1. The total area of the workshop is about 435.2 square meters, (27.2*8*2 two storeys).
2. The total length of the rollers is: 35*12=420cm.
3. The volume of adding the water: depending upon the moisture content of raw wheat, usually temper to 3% moisture, it needs 1.5T water in 24 hours.