Sandwich Panel Machine

TF VII Sandwich Panel line can produce five types of sandwich panels, three for wall panel, and two for roof panel.
Polystyrene Sandwich Panel is also called EPS Sandwich Panel,the up & down surface of this panel is Galvanized & pre-painted steel sheets. Its core material is Polystyrene. TF VII Sandwich Panel is formed by laminating and pressing with 2 components PU glue. The sandwich panel features temperature control, heat & sound insulation, anti-water and fire resistant. It is widely used as the wall or roof for cold storage, industrial workshop, public building etc.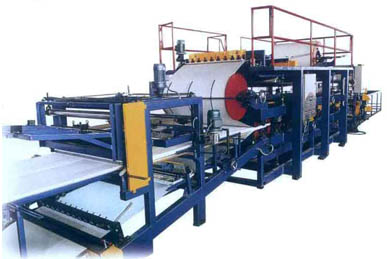 | | | | | | | |
| --- | --- | --- | --- | --- | --- | --- |
| No. | Model | Width (mm) | Thickness | Cover width (mm) | Size[L*W*H] | Power[kw] |
| 1 | TFVIC | 1000/1200 | 0.4-0.6 | 950-1150 | 19754*1600*2700 | 22 |
| 2 | TFVI | 1000/1200 | 0.4-0.6 | 950-1150 | 20745*1600*2700 | 25 |
| 3 | TFVII | 1000/1200 | 0.4-0.6 | 950-1150 | 20754*1600*2700 | 28 |
| 4 | TFVIII | 1000/1200 | 0.4-0.6 | 950/1150 | 20745*1600*2700 | 28 |
| 5 | TF-PU | 1000/1200 | 0.4-0.6 | 950/1100 | | |
| | |
| --- | --- |
| | |
| | |