What is Charcoal Briquetting Plant?
Charcoal briquetting plant also named as Screw Briquette Plant. It consists of complete equipments for making charcoal briquettes, including crusher/hammer mill, dryer, conveyor, screw briquette machine, charcoal kiln/carbonization furnace, cooler and packager and etc.
The main part of this plant is
screw briquetting press
. We will design the whole set of project for you, so you don't need to worry about how to set up charcoal briquette plant.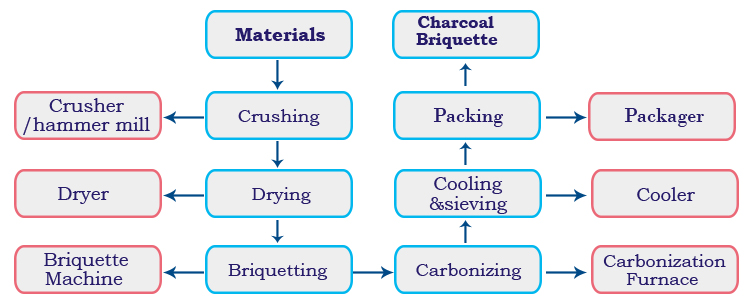 Raw materials of charcoal briquette plant
Charcoal briquette plant can process various kinds of raw materials, such as wood, sawdust, stalks, straw, forestry residues, and so on. The end products are four or six arrises edges of biomass briquettes or charcoal briquetttes.


Advantage of Charcoal Briquetting Plant
Charcoal briquette plant has the advantages of easy to operation, low energy consumption, labor saving, etc.
The main part of charcoal briquetting plant, screw briquetting machine, adopts wear-resisting materials, which can make sure the continuous production and low malfunction.
The whole screw briquette production line greatly improves the production producing large profits.
The end products charcoal briquettes have high combustible efficiency and little ash after burning.
Charcoal briquettes processed by charcoal briquette press have regular shapes, which can be stacked and transported easily.