Performance
This home oil press machine which named CROWN, is a hand operated oil press machine. This mini machine is the best choice for home, with the high extraction efficiency, continuous expelling and hand operated (no external power source required). Hand crank modeling design makes the operation much easy. Oilseeds can be expelled perfectly (including seed coat) by this hand oil press. And it is almost no maintenance required.
Crown home oil press machine is suitable for almost all oil containing seeds with at least 25% oil in the seeds.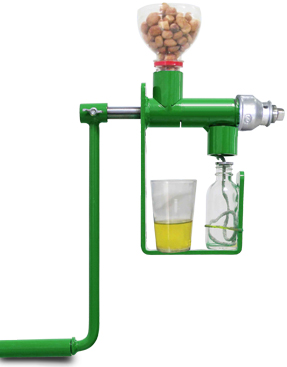 Type of seed
% Total oil to seed
% Oil extraction
% Extraction efficiency
Grams oil per hour
Litres oil per hour
Kg seed per hour
Remarks
Sunflower
( black oil seed )
45
34 - 38
76 – 84
1200
1.33
3.4-3.6

-

Sunflower
( striped, non oil seed )

-

21

-

415
0.47

-

use black oil seed
Rapeseed / canola
44
33
75
1524
1.69
4.5
50 rpm
Sesame
60
46
77
1738
1.93
3.8
50 rpm
Oil palm kernel
68
46
68
1280
1.42
2.8
not crushed
Shelled groundnut
57
40
70
1468
1.65
3,61

-

Pumpkinseed
45
39
86
570
0.63
1.5
low input
Walnut kernel
71
63
89
894
1.00
1.4
grated
Important for good results
Moisture content of the seed should be 8 - 10 %.
If too dry (artificially dried seeds or dried in arid regions):
Press oil cake in the cap stone hard / no oil production.
If too moist:
Press cake flows back to the oil slid / no oil production.
Quality requirements of the seeds
Oilseed has to be well dried, but not too dry (app. 8 - 10 % moisture)
No deshelling required except for groundnut, walnut and hazelnut
Oilseeds should be freed from any stones, sticks and sand before expelling.
Big seeds such as walnut, hazelnut, oil palm kernel, coprah and babassu need reduction in size but should not be grinded.
Dimensions
Size: 20 x 13 x 6 CM (app. 8 x 5 x 2.5 Inch)
Total weight: 2.3 KG (app. 5 LB) (Users manual included)
Maximum 8 CROWN expellers / box
19.5 KG = maximum weight for normal airmail freight
Shipping freight not included, we will let you know the air shipping freight according to the detailed mail address.
All prices in USD
If the order quantity is more, the certain discount will be given according to your real order quantity.
Payment term: Money Transfer by Bank (TT)
(20 USD extra charge for bank fee)
Transfer the money through your own bank.
Use the IBAN number on the order confirmation.
Thanks for your choice for CROWN hand oil press. If you have any question or advice, please feel free to let us know without any hesitation.