Peanut Roaster
The roaster is designed by our team of experienced engineers for exporting machines internationally. It have many excellencent feactures including: saving cost and energy sources, safety, sanitation, conveniency, temperature control, steady performance, taste sterling products, simple operation and maintenance etc. The products have reached exportng standards.
The machine mainly process food: legume, kernels, nut(e.g. various of peanut kernels, melon seeds, almond, chestnut, horsebean ) etc.
The machine adapts to roll and heat transmit and radiation by galvanothermy pipe, and have auto-control temperature set; in roasting course. The materials are roasted by hot air and be pushed and circulated in a continuum mannor, in this way, the product will be heated equably, in order to ensure the products have good quality.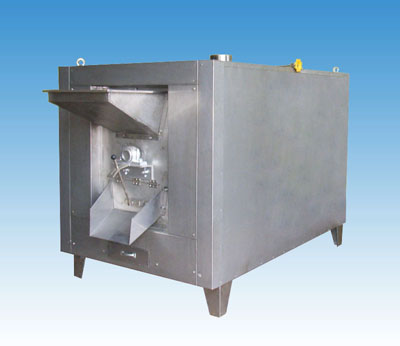 1).Characteristics:
1.It adopts roller/heat exchange/heat radiation principle, in order to make sure purity taste of products by principle pipe.
2.It is applicable to peanut kernel, horsebean, coffee bean, melon seeds, nutlet , nut etc. dry and roasted.
3.Advantages: saves energy, safety, sanitation, conveniency, handy operation
2).Technical Parameters:
| | |
| --- | --- |
| Type | DHL type Electrothermal Roaster |
| Voltage(V) | 380 |
| Power (KW) | 30 |
| Capacity (kg/h) | 200 |
| Weight(kg) | 600 |
| Frequency(HZ) | 50 |
| Size(L*W*H)mm | 2900 *2600 *1900 |