Peanut Roaster
The roaster is designed by our team of experienced engineers for exporting machines internationally. It have many excellencent feactures including: saving cost and energy sources, safety, sanitation, conveniency, temperature control, steady performance, taste sterling products, simple operation and maintenance etc. The products have reached exportng standards.
The machine mainly process food: legume, kernels, nut(e.g. various of peanut kernels, melon seeds, almond, chestnut, horsebean ) etc.
There are different kinds of peanut roasters as the following.
KL peanut roaster machine
Automatic peanut roaster machine belongs to rotary drum type with auto-roasting and auto-discharging. The rotary drum brings even heating and no burn to the beans. Roasting temperature and time could be set to get best roasting performance. It has the features of easy operation, solid quality and low maintain fee that the cost are lower than your competitors.
The machine adapts to roll and heat transmits and radiation by galvanothermy pipe, and have auto-control temperature set in roasting course. The materials are roasted by hot air and are pushed and circulated in a continuum manner, in this way, the product will be heated equally, in order to ensure the products have good quality.

| | | | | |
| --- | --- | --- | --- | --- |
| Tyle | Transmission Power | Power | Capacity | Size |
| KL-05 | 0.75kw | 13.5kw/380v | 50kg/h | 2300*1000*1350mm |
| KL-1 | 1.1kw | 22.5kw/380v | 100kg/h | 2900*1400*1650mm |
| KL-2 | 2.2kw | 36-44kw/380v | 200kg/h | 2900*2100*1650mm |
| KL-3 | 3.3kw | 54-67kw/380v | 300-350kg/h | 4700*2900*1650mm |
| KL-5 | 5.5kw | 112.5kw/380v | 500-600kg/h | 4700*2900*1700mm |
KF small peanut roasting machine
This small peanut roasting machine is mainly used to drying and roasting raw materials, oil bearing materials such as the soybean, chestnut,peanut,almond, sunflower seed,tea seeds, corn seeds, cotton seeds, palm, coconut and olive.
Feature of small peanut roasting machine :
1. It is very easy to use.
2. It is mainly heating way is coal,gas and electric
3. Forward and reverse rotary drum type roaster machine,Continuous operation
4. Safe and clean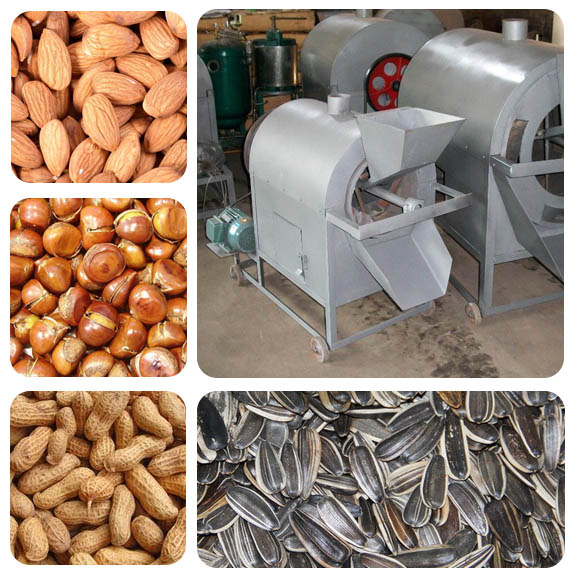 | | | | | |
| --- | --- | --- | --- | --- |
| Model | Capacity | Frying rate | Dimension | Power |
| KF-25G | 60-80kg/h | ≥98% | 1000*500*900mm | 700W |
| KF-130G | 300-400kg/h | ≥98% | 1500*700*1500mm | 1,500W |
| KF-140G | 600-800kg/h | ≥98% | 2300*850*1700mm | 2800W |
KZ peanut roasting machine
The roaster has the advantages of one machine with multi – use, easy and fast, time saving, labor saving, high yield rate etc. At present, the roaster is the most ideal roasting equipment.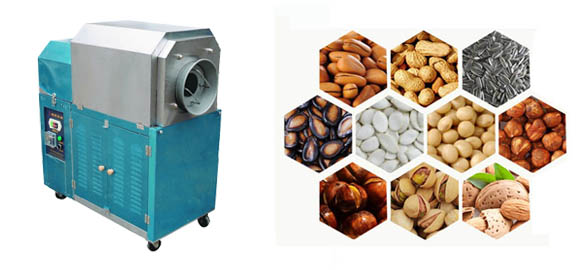 | | | | |
| --- | --- | --- | --- |
| Model | Capacity | Heating | Size |
| KZ-25L | 12.5kg/h | 6kw | 990*470*100mm |
| KZ-50w | 25kg/h | 9.5kw | 1250*600*1300mm |
| KZ-100w | 50kg/h | 16kw | 1500*800*1560mm |
DHL type electrothermal roaster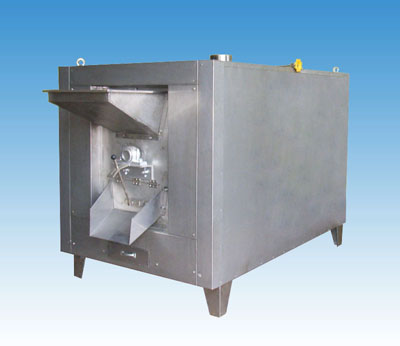 1).Characteristics:
1.It adopts roller/heat exchange/heat radiation principle, in order to make sure purity taste of products by principle pipe.
2.It is applicable to peanut kernel, horsebean, coffee bean, melon seeds, nutlet , nut etc. dry and roasted.
3.Advantages: saves energy, safety, sanitation, conveniency, handy operation
2).Technical Parameters:
| | |
| --- | --- |
| Type | DHL type Electrothermal Roaster |
| Voltage(V) | 380 |
| Power (KW) | 30 |
| Capacity (kg/h) | 200 |
| Weight(kg) | 600 |
| Frequency(HZ) | 50 |
| Size(L*W*H)mm | 2900 *2600 *1900 |

Features of peanut roasting machine
The roaster machine has various kinds of models and two ways of heating—gas heating and electricity heating.
Unique horizontal drum structure, it has uniform heating and good sealing.
The gas heating roaster is equipped with energy saving stove with adjustable fire power. The electricity heating roaster has temperature controller, the temperature are adjustable.
The outer layer of the drum is made of high quality asbestos as the thermal insulation material, which has good performance of thermal insulation and high thermal efficiency. It ensures the temperature requirement of different materials for roast and good flavor. At the same time, it is time saving and electricity saving.
The material is easy to out of the pan. The screening and separation are realized by press the button of clockwise. It is not use to separate by human.
During roastering process, the materials are roasted in the drum without sticking the pan.
It is adaptable for various kinds of dried fruit and nuts, like chestnut, peanuts, melon seeds, pine nut, hazelnut, almond, rapeseed, sesame, beans, red dates, coffee, walnut, all kinds of beans, wheat, rice etc. It is applicable to all major shopping malls, supermarkets, food stores, chain stores, street snacks and other places with dense populated areas for designated operation and processing. It is your good helper to get rich.
Maintaining of peanut roasting machine
Add machine oil to each oil mouth before work. Do examine whether the worm gear box is lack of oil every week.
Close the air button for stop the machine of every shaft. If the roaster machine is out of use for a long period of time, the materials in the pan should be cleared out completely and drop a little bit eatable oil at the feeding mouth for 3 minutes continuously. The pan should be remained with oil to ensure the pan without rust.
If the roaster machine is out of use for long period of time, the roaster should be idle running for 10-15 minutes before using. Remove the remained sundries and dry the oil in the drum for heating.
The roaster machine should be rotates for heating. Close the roaster and the machine still needs to operate for 5-8 minutes.