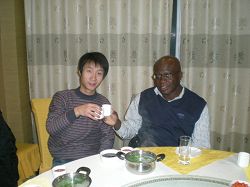 This client who comes from South Africa is interested in our Flat Die Pellet Presses for sale. When see and test our Pellet Mill, he is very satisfied with the quality of the finished pellets and our machines. At that time, this client confirm to order 10 pieces of Pellet Mill for trial order in our office.

In order to expand our business in SA, we have concluded the agent contract with this client.
Our Flat Die Pelleting Presses are good choice for small farm family. And it is one kind of energy source machines which can process wood sawdust, wood lump, etc agro-waste resource.Click Flat Die Pellet Presses to see the detail product information.
Raw Material
The best moisture content for wood pelletizer is between 13%-15%.
The best size of raw material is granule udner diameter 4mm.
For Feedstuff
As one kind of renewble energy machinery which can process wood sawdust, wood lump and other agro-waste materials, our GC-9PK series flat die pellet press is very popular for farmers who feed large quantity of animals in China. It features cheap price, low consumption, high capacity etc. The series wood pellet machine is a desirable choice for small feeding plant which can save time and cost for them.
For Wood Pellet Fuel
As we know, the original design of flat die pellet presses are used for processing feedstuff. But through our client's feedback and diligent research, flat die pellet press is applied in processing wood sawdust, straw, different kinds of stalks, grass, etc. When process wood materials, whether it need add binder into it depends on the fiber content and resin content of raw material. Because the material need have certain content of resin content to bind them together. If the raw material have no enough resin content, little binder such as oil cake or fecula residue etc. During our several times tests, if add little binder into the material, the appearance of final pellets will become bright wood pellet fuel.
During the process of pelletizing, the temperature of wood pellet machine can reach about 70-80 centigrade, which can make fecula into paste. The granule inside wood pelletizer has already been fully cooked. Because lignin in plants is indigestible by animal enzymes, the cooking process can decompose the lignin. So the pellets after cooked will be not easy to go moldy and degenerative, thus the pellets can be stored for a longger time. At the same time, it can improve the dainty and assimilation function of animal feedstuff. To pelletizing the animal feedstuff by flat die pellet presses can shorten the period of feeding, which make feeding more efficiently and lower users