Now, because of environmental protection, biomass energy is becoming more and more popular, and the biomass pellet machine is well known. Let's learn more about the biomass pellet machine.
What is biomass and biomass raw material?
Biomass is organic matter from plants and animals. It is renewable energy. Biomass contains stored energy from the sun. Plants absorb solar energy during what is called photosynthesis. When biomass burns, the chemical energy of biomass is released as heat. Biomass can be directly burned or converted into liquid biofuels or biogas that can be burned as fuel.
Biomass materials include wood and wood processing waste, crops and waste, animal waste and human sewage.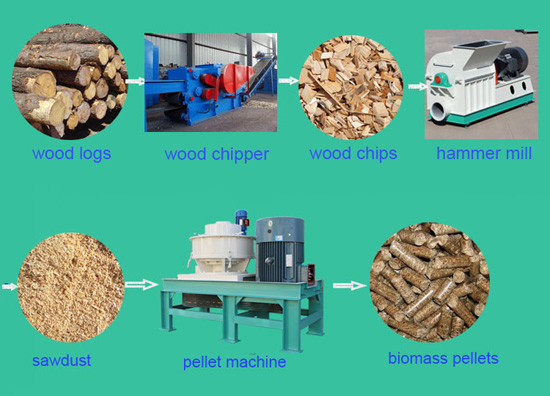 Working principle of biomass pellet machine
Biomass pellet machine is a machine which can makes raw materials into pellets.
The main parts of the biomass pellet machine are roller, mould, adjusting bolt, filter oil hole, circular nut, lock ring, hopper, spindle, blade, electric control cabinet and so on. The main shaft is driven by the gear, and then the friction between the roller and the die can reach up to 80 degrees. Through the high temperature effect, under the action of the roller, the raw material through the die, the high quality die particles will be rolled out from the exit. At the same time, the length of the pellets can be set according to the position of the knife.
Advantages of biomass pellets
Wood and biomass granule is efficient heat source, because they are compared with other types of wood heating, contain very low levels of ash and moisture, and is not due to combustion and the release of harmful gases into the air.
Since natural gas and oil are controlled by the government, biomass particles operate in free markets, so they are not only more sustainable, but cheaper than traditional heating methods.
Particles are easy to obtain, easy to burn, and, most important, easy to store.
Burning wood and biomass particles are carbon-neutral, meaning they do not release any net carbon into the atmosphere.In addition, biomass particles are thought to be unrestricted fuel sources, according to the Pellet Fuels Institute.
Support equipment for biomass pellet machine
The biomass pellet machine can be used alone, but sometimes it is necessary to choose the accessories according to the state of the material and the final use of the pellets.
Hammer mill: the hammer mill is used to crush raw materials into a sawdust with a diameter of 3-5mm, which is suitable for making particles.
Air dryers: airflow dryers are used to dry raw materials and remove excess water.
Cooler: cooler is used in pellet production line to reduce pellets temperature, improve hardness and reduce moisture content.
Pellets packing machine: for automatic weighing and packing of wooden pellets.