The moveable biomass pellet plant is a complete set of biomass pelletizing equipment newly and independently developed by GEMCO. It is mainly composed of a hammer mill, a cyclone separator, a material mixing & storage bin, a screw elevator/feeder, a flat die pellet mill, a cooling system (water tank), a vibrating sieve/screen, a bucket conveyor, a foundation frame, fans, and electrical control cabinet. It is an ideal machine to produce biomass pellets from sawdust or stalks, and animal feed pellets are nothing difficult for it.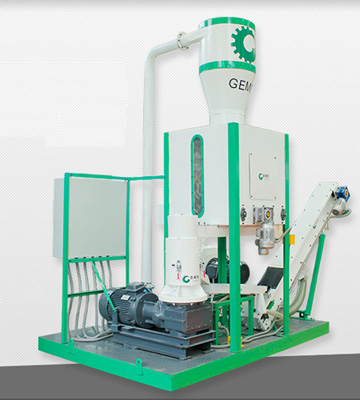 Material
The moveable biomass pellet plant can process a wide range of raw materials such as sawdust, stalks, straw, twigs, rice husks, groundnut shells, etc. You can produce hard and smooth wood pellets for combustion with it. Also, if you'd like to make some feed pellets, it is certainly a good choice.
How It Works?

The chart above clearly shows the entire workflow of the moveable biomass pellet plant. Firstly, the raw materials are put into the hopper of the hammer mill to be cut into small pieces. Next, the material passes the cyclone separator and material mixing & storage bin, and then is transmitted to the flat die pellet mill by the screw feeder. In the pellet mill, which is the core part of the whole set of machine, the material is compressed into pellets and sent to the vibrating sieve. Vibration makes the powder be filtered out and repeat the procedures before, while the remaining qualified pellets are cooled and go to the scraper conveyor, which takes it to the packing zone to be wrapped up. During the entire process, the dust will be collected so as to reduce pollution to the environment.
Features of the Moveable Biomass Pellet Plant