What is alfalfa?
Alfalfa, also called Lucerne or medicago sativa which can grow to the height of 30 to 100 centimeters (1-3 feet) is a perennial flowering plant in the pea family. It is a forage legume which generally lives four to eight years, but according to climate and areas can also live more than 20 years. In addition, alfalfa can be seen nearly everywhere in lawns, parks, or fields.
Alfalfa application
Generally, alfalfa is cut three to four times a year even in Arizona and southern California it can be harvested more than 12 times, besides, alfalfa grows quickly and it's easy for alfalfa to live no matter the environment is good or not, so it is high yield and high nutritional quality which makes alfalfa suitable as livestock fodder, as alfalfa is known to us, its primary use is as feed for cows, secondly, it can be used to feed cattle, horses, sheep and etc because of its high protein, calcium and vitamins content. Moreover, alfalfa can be used as fertilizer or for heating when it is made into alfalfa pellets.
Alfalfa pellets
Alfalfa is widely cultivated as an important forage crop in many countries all over the world, especially in America and Europe. Up to 2009, the cultivated area of alfalfa was approximately up to 30 million hectares all over the world based on incomplete statistics. Now that alfalfa is such a worldwide pasture, there are an increasing number of people to use alfalfa as their forage to feed the livestock. While recent years, alfalfa is usually made into pellets by alfalfa pellet mill due to the following advantages. Firstly, alfalfa pellets are convenient to transport and store, meanwhile, make alfalfa into pellets can reduce the cost of processing. Secondly, the nutritional value of alfalfa pellets is much higher than alfalfa which makes livestock prefer to eat.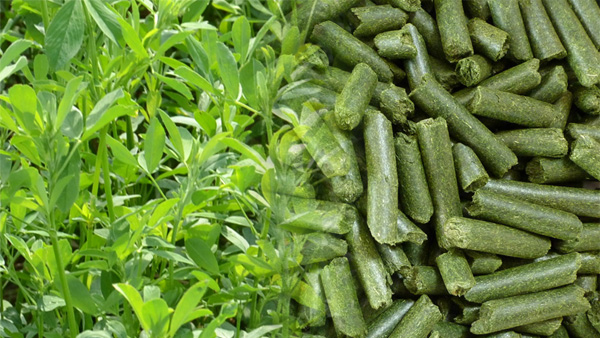 Why choose alfalfa pellets?
Alfalfa pellets are very compacted and hard. Generally, alfalfa pellets are used as fodder of animals, such as cattle, horses, etc and alfalfa pellets are one of the most important fodders and are beneficial to animals. For instance, alfalfa pellets used as feed for cow can increase the quality and quantity of milk. If pigs absorb alfalfa pellets nutrition, they will digest more easily and this can prevent from constipation which can keep healthy and improve the reproductive performance. Moreover, recent research indicates that alfalfa pellets can be fed in fewer amounts than that of alfalfa due to the higher nutritional value and high density. Apart from this, alfalfa pellets can also be used as an organic fertilizer in the garden or some other places. Furthermore, another application of alfalfa pellets is that they can be used as biomass fuel which can be fully burned, leave less ash and release less smoke which is cost-effective and environmental friendly.
Now that alfalfa pellets are the general fodder of livestock, moreover, are more efficient, more economical and renewable fuel sources, a professional alfalfa pellet mill is necessary. Alfalfa pellet mill is a kind of pellet mill which is specially designed for processing alfalfa into pellets. With an alfalfa pellet mill, you can produce alfalfa pellets effectively with the advantage of environmental protection and at the same time it's cost-effective. There are various alfalfa pellet mills,the most commonly pellet mills are ring die pellet mill which suitable for large production and flat die pellet mill that usually for home use. Meanwhile, you can choose preferable pellet mill in accordance with your energy resources, for example, there are electric alfalfa pellet mill, diesel alfalfa pellet mill, gasoline alfalfa pellet mill and PTO alfalfa pellet mill.
Anyhow, choose the alfalfa pellet mill based on your requirements. The other factor you should consider is the alfalfa pellet mill manufacturer; choose the manufacturer with the certification of pellet mill is reasonable due to their reliable quality, good service and so on. Gemco is such a manufacturer of alfalfa pellet mill that you can believe in and it can fully meet your needs.